I'VE BEEN HOARDING A HUGE OLD SCREEN THAT
WAS PURCHASED AT A GARAGE SALE FOR $3.
IT SEEMED LIKE A LOT TO PAY,
CONSIDERING MOST FOLKS WOULD TRASH IT.
BUT I LOVED THE CHIPPY PAINT EDGES.
IT SAT IN MY BASEMENT FOR A YEAR & A HALF.
THIS FALL I DECIDED IT WAS TIME TO ADORN IT.
SO, I STITCHED ON SOME BURLAP BELLS,
ADDED A PRETTY SPRAY & BOW AT TOP,
AND TIED ON GLITTERY SNOWFLAKES.
IT ENDED UP WITH A VERY OLD TIME COUNTRY LOOK.
I THINK IT WOULD BE SO CUTE ON A COVERED PORCH,
BY THE ENTRY.
I LOVE MAKING THINGS THAT I KNOW ARE ONE-OF-A-KIND.
THE CUSTOMER THAT BUYS THIS WILL NOT
BE GETTING A COOKIE CUTTER DECORATIONS,
LIKE EVERYONE FROM WALMART!
NOPE...THIS SCREEN IS AN ORIGINAL!
LINKING UP TO: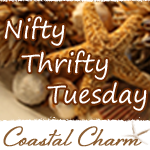 &