The new year is blasting by us
at warp speed, don't you think?
It's time to decorate for
This ivory painted display is a vintage dresser
mirror frame! The chicken wire I added
makes a great clip board. A few decorative
boards made it a free standing unit.
In order to "JAZZ" it up,
I added hand made paper tags.
old book page Sizzix die cut letters
I also decided to peck away at
My stockpile is unbelievable!
(I have more painted jars
to share in future posts)
These plain jars, with no embossed words,
are ideal for making heart "windows".
Then if you add candy to them,
they look super cute. The old glass mayo jars
are plentiful & plain like this.
I used actual JAR PAINT from the
craft store. It really does stick the best!
Be warned, if you have a heart sticker
on, peel it off right away while the
paint is wet. Then, for your second coat,
add a fresh heart sticker when it
I made some decorative tags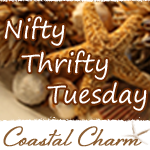 and