The garden phrase on a mirror
seemed like a dandy home decor sign.
Plus it makes me feel so lovely,
since my gardens are a huge part of my life!
I used adhesive vinyl that was cut on
my Cricut machine. Notice the two different
letter fonts & adorable rose decal.
The mirror was left over from a project
where I just needed the frame.
The wood is actually chippy siding off
a house a friend tore down.
It's slightly imperfect, but good practice with
my stash of reclaimed wood.
Here are a few spring pictures of my garden:
Now that summer has officially arrived,
I will be moving my pansy containers to a
slightly shady location & trimming some back.
I'll be moving Celosia pots onto my south facing deck
which will take the heat well, along with my Mandevilla.
If you love gardening, keep checking my blog for some
junky garden inspiration!
Linking up to:
&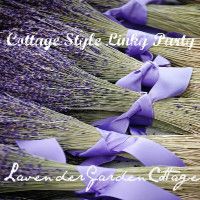 &