I REALLY AM OBSESSED LOVE PUMPKINS.
I GROW THEM IN MY BACKYARD.
WE HAD A GREAT YEAR FOR THEM WITH ALL THE HEAT.
THIS YEAR I TRIED TO MAKE SOME FUN FABRIC ONES
TO HELP BRING SOME FALL SPIRIT INDOORS.
LETS JUST SAY I GOT A LITTLE CARRIED AWAY!
LAST I CHECKED THE TOTAL OUTCOME WAS OVER 20!!!
I CAN'T TAKE ANY CREDIT FOR THE IDEA.
IT WAS A PINTREST FIND & A GREAT TUTORIAL:
I've sold quite a few, although sales seem to be slowing way down.
Thanks for stopping by MN Junker.
I encourage YOU to try making a fabric pumpkin.
Linking up to: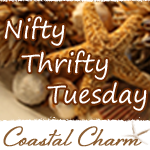 &